Stop right there, ya dirty bum! Doncha know it's nearly Valentine's Day? Instead of doing the typical date-night look posts most fashion blogs do, I'll be posting in honor of the Valentine's Day Massacre. I'll give you your own mob style, with some tips you can't refuse.
Okay, that was really bad. Sorry.
Anyway, while the Mafia did some really gross stuff, they knew how to suit up. Really. Of course, there are some ways Mafia style can be misconstrued. Like so.
A fedora and a tommy gun do not make a Mafia look. Just..........no. No.
Mafia Staple #1 Pinstripes
Most mobsters know how to wear a suit, and while you don't have to suit up, per se, pinstripes are a definite must.
#2 A Hat
Usually fedora or cloche. Mob activity became very big in the 20's or 30's, around the same time this flapper trend came around. This may be just me, but I seem to see big similarities between flappers and gangster's molls.
#3 Spectators
The ultimate moll shoe. These shoes come in varying heights, sometimes with straps, but they ALWAYS are black and white, like so.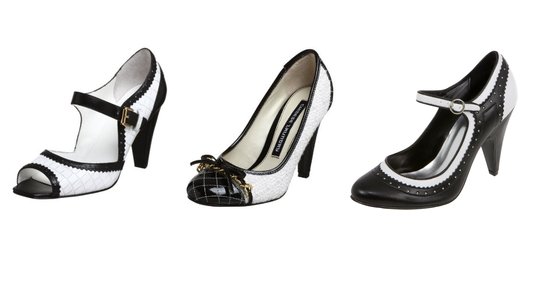 All in all, there are two basic rules.
#1
Black and white are always right.
#2
If you look like you can kill in it, you probably can.
Ciao!